"Real estate investing, even on a very small scale, remains a tried and true means of building an individual's cash flow and wealth." –Robert Kiyosaki
What do you think about earning passive income without exerting too much energy and effort? Earning passive income in real estate is possible! In this Q&A blog post interview, you will know Dr. Jeff Anzalone's thoughts on real estate investing for physicians, how to earn passive income in real estate, and some tips/strategies based from his experiences. If you are planning to make your first real estate investment, this blog post will be helpful for you!
---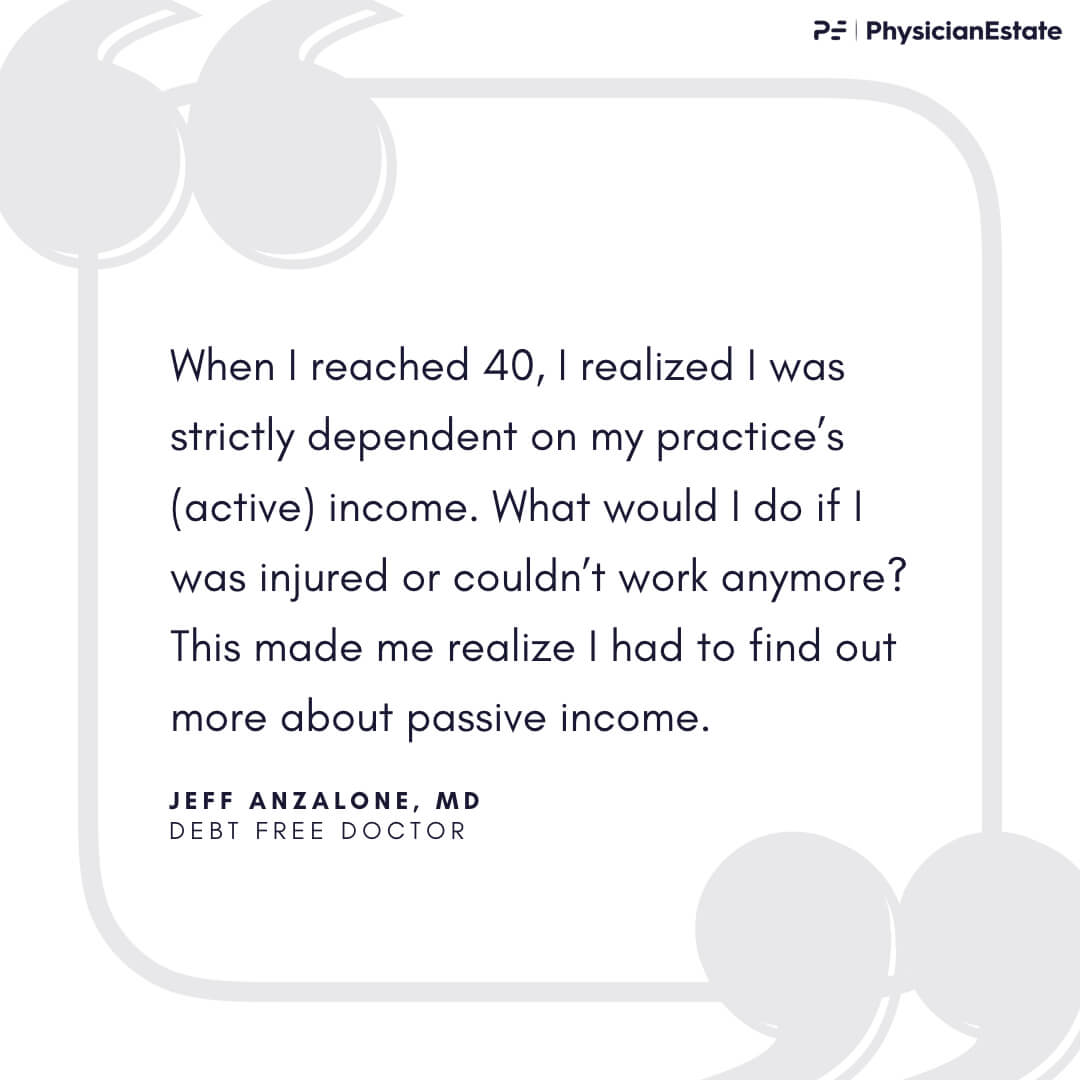 Initial Thoughts on Passive Income in Real Estate
On Background 
1. Please tell us a bit about your personal story, growing up, and medicine training. 
My name is Dr. Jeff Anzalone and I'm a periodontist in Louisiana. A few short years ago I started to worry about my family's financial future.

As a solo practitioner, if something happened to me, then no other income would be coming in.

What if I became injured? (I like to ski and play tennis!)

What if I became disabled?

What if burnout started to set in?

Not good.

These concerns made me take a hard look at our financial future and I realized that something needed to be done.
Most doctors have only ONE source of income, their earned income from working. Myself included….until a few short years ago.

Now I've learned how to build multiple streams of passive income so that slowly but surely I'm replacing my active income each year.

One day I looked up and realized that I was keeping all of this new found information to myself whereas most of it had been given to me in some form or fashion.

This sparked me to start this blog to share the word to other doctors and high-income earners that you can truly stop trading time for money and start living your life on your on terms.
2. What made you develop interest in real estate investing? Tell us about what motivated you to create Debt Free Doctor – a platform that aims to help physicians understand how they can earn passive income in real estate.
After completing dental school and a residency at LSU, I owed close to $300,000 in student loans, along with other consumer debt.

Two weeks before graduation, my job offer fell through, leaving my wife and I with a two-month-old and nowhere to go. 

This led me to start a practice from scratch, and after seven long and intentional years, we became debt-free.

Along the way, I became passionate about sharing my debt-free journey, the strategies I was learning, and basic investing principles with other doctors and high-income professionals.

That's how Debt Free Doctor originally started, to help others learn the strategies they needed to get out of debt.

Once I became debt-free, I then began to search for ways to put our money to work for us and shelter our income from taxes.

This was especially crucial since, once the majority of the practice and equipment had been depreciated, our tax bill skyrocketed.

During my research, I noticed that most people who were achieving financial freedom quickly were doing so through 

investing in real estate

. 

This sounded interesting to me, but I knew that I didn't want to be a landlord and have to give up precious family time.

Most of these people were passively investing in real estate via crowdfunding, so I decided to give it a try.

After trial and error (and losing several thousands of dollars early on), I figured out what it took to invest in cash flowing real estate while also drastically reducing our tax bill.
I now have the time and resources to enjoy my life and family without having to constantly trade my valuable time for money.
3. Did you pursue any formal education/training to further understand how to earn passive income in real estate? If so, what was it?
I did NOT. I do have a local real estate mentor that initially encouraged me to get into real estate but more from an active investor point of view. I did NOT want to be an active investor as I didn't want a 2nd job so I chose the passive route.
Specifics About Having Passive Income in Real Estate
About Debt Free Doctor – A Platform that Aims to Help Physicians Understand How to Earn Passive Income in Real Estate 
4. What is Debt Free Doctor? As a platform that talks about different topics related to earning passive income in real estate, what is your unique proposition?
The site started as nothing more than sharing our story on how my wife and I were able to pay off close to $300K in student loan debt and also teach the basics of DIY investing. The more I started investing in passive real estate, the more I realized that not many other doctors knew about it. So I decided to do something about it. My goal is to provide education about passive investing from a point of view that is unique and I'm still seeing patients like my readers too.
5. For physician investors who are starting out, what topics do you recommend they prioritize learning so they can start earning passive income in real estate?
The best thing to do would be to network with other investors, listen to podcasts, read books and attend events. I have a 

real estate investing tab

 on my site that has several helpful articles to get people going. The more education you receive, the better questions that can be asked.
6. Tell us about your thoughts on having a 9-5 job as a physician and being a high-income earner vs. earning passive income in real estate. 
You've probably heard the phrase, "You don't know what you don't know." For most of us, we don't know anything but working until we're 70 and hoping our financial advisor is smart enough with our money to make sure our 401k last throughout our retirement. That's it.
When I reached 40, I realized I was strictly dependent on my practice's (active) income. What would I do if I was injured or couldn't work anymore?

  

This made me realize I had to find out more about passive income.
Attain Financial Freedom by Earning Passive Income in Real Estate
7. It is given that physicians' primary source of income is their 9-5 job in the hospital. Would you recommend real estate investing as a reliable source of income so they can stop trading their time for money? Why do you value earning passive income in real estate? 
I would recommend real estate as a reliable income source ONLY if the person is educated enough to make good decisions. I didn't at first which is why I lost my tail. You can 

read more about my failure here

 regarding how I lost $50K in one deal.
Investment Types that Guarantee Passive Income in Real Estate
On Investments – Passive Income in Real Estate
8. In general, which asset class do you think has the most potential in order to earn passive income in real estate? What asset class(es) would you heavily invest in? 
9. Tell us a bit about your investment strategies. Do you invest your savings? If so, what are your favorite asset classes? Do you max out on your retirement accounts? Since you own your practice, do you utilize solo 401k?
I get asked this question a good bit. As a high-income earner, I think we should do EVERYTHING we can to lower our tax bill legally. Here's our monthly plan:

Max out the practice retirement accounts

Fund both child's 529

All extra $$ is added into an account earmarked for real estate. Our current passive real estate distributions automatically go into this account too. Once we have enough to invest in a new deal (typically minimum $50K) we start looking at what's available.
Favorites
10. Favorite real estate investing books you would highly recommend to physicians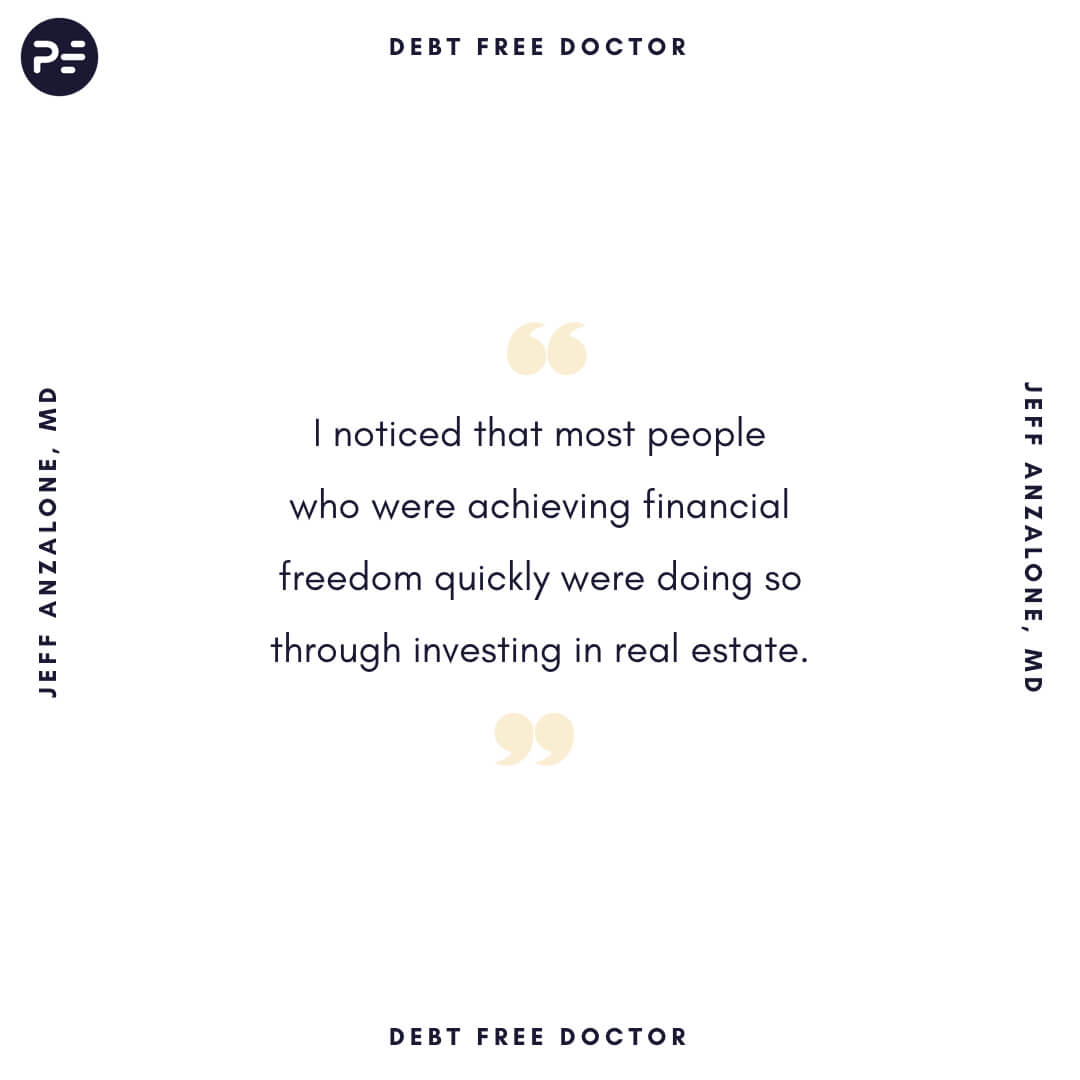 Here at PhysicianEstate, we welcome all physician entrepreneurs to learn about commercial real estate investments, rental property investments, and wealth generation. We encourage all physicians to eventually become real estate physician investors. We know a great deal about Who – What – Why – How. 
Stay in touch with us by signing up for our newsletter. The newsletter will keep you up to speed on the current real estate investments we are looking at, provide physicians with investment opportunities, and much more.
Legal Disclaimer: This is not investment advice. I am not a legal and/or investment advisor. This is my personal blog, and all information found here, including any ideas, opinions, views, predictions, forecasts, commentaries, suggestions, or stock picks, expressed or implied herein, are for informational, entertainment or educational purposes only and should not be construed as personal investment advice. These are my views, it is not a production of my employer, nor is it affiliated with any broker/dealer or registered investment advisor. While the information provided is believed to be accurate, it may include errors or inaccuracies. To the maximum extent permitted by law, PhysicianEstate disclaims any and all liability in the event any information, commentary, analysis, opinions, advice and/or recommendations prove to be inaccurate, incomplete or unreliable, or result in any investment or other losses. You should consult with an attorney or other professional to determine what may be best for your individual needs. Your use of the information on the website or materials linked from the Web is at your own risk.